---
Posted by Miranda Weldon on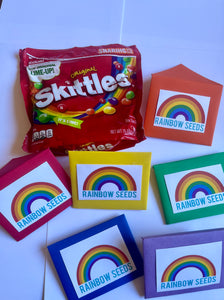 These Rainbow seed Skittle packets were a fun addition to our St.Patrick Day snacks, but would also be perfect favors for a rainbow birthday party or garden themed birthday party! They were quick and easy to make with homemade origami paper packets. The free rainbow seed printable completed the look!
---
Posted by Miranda Weldon on
As a dedicated room mom, for my daughter's class. I've had the privilege of organizing numerous celebrations throughout the school year. There's always an opportunity to create memorable moments for our children. When it comes to St. Patrick's Day, I've often found myself on the hunt for a unique and healthy St. Patrick's Day snack to share with the class. That's when I stumbled upon the idea of making rainbow fruit kabobs – a delightful and vibrant addition to our holiday festivities. In this blog, I'm excited to share my journey of crafting these colorful and nutritious treats that are...
---
Posted by Miranda Weldon on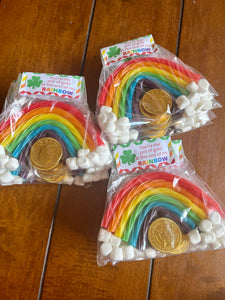 I love putting together cute snacks for my daughters class! It's my favorite job as room mom. Our school has a policy that parents can't cook anything for the class though, which sometimes limits the cute snacks I can make! Parents are allowed to repackage food though, which helps open up some cute options. For St.Patrick's day I decided to make these cute bags with twizzlers rainbows, marshmallow clouds, gold coins, and a cute bag topper! Supplies needed:  Sandwich bags Bag Topper (I found this one here ) Printer Paper Scissors Staples Mini Marshmallows  Rainbow pull apart twizzlers (I used 4 bags to make...