---
Posted by Miranda Weldon on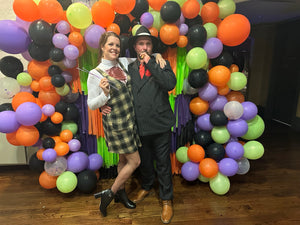 Photo booths have become a staple at events, adding a fun spot to capture memorable moments for guests. I make one for every party I host. Not only do they serve as a large piece of decor for the event space, but they also serve as a perfect reminder for me to get a picture of everyone in attendance.  I always want a backdrop that suits the event's theme and captures the essence of the occasion. Sometimes I use props like the coral reef I built for this Under the Sea Photobooth. Sometimes I will sew ruffle crepe paper streamers like...
---
Posted by Miranda Weldon on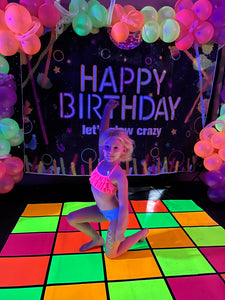 Picture this: A room filled with neon colors, pulsating with energy, and kids dancing their hearts out on a dazzling neon dance floor. If you're planning a glow party and want to take it to the next level, you're in the right place! In this guide, I'll walk you through the exciting process of creating your very own neon dance floor that will light up the party and leave your young guests in awe. Get ready to make your glow party unforgettable! The more UV-reactive things you have in the room, the better your party will glow with a little...
---
Posted by Miranda Weldon on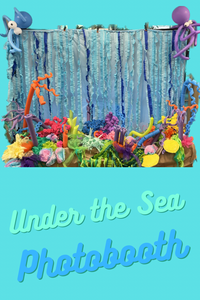 I love having a photo booth at every party I host! When I have one, I am reminded to get at least one picture of every guest, and it is nice to have a pretty backdrop for pictures. A backdrop that matches the party's theme is not just great for pictures, it's a large piece of party décor too!  Just before my daughter's 7th birthday, we took a family trip to Grand Cayman. She fell in love with snorkeling on that trip and was fascinated with life under the sea. She not only loved the fish but all the coral too! When...