---
Posted by Miranda Weldon on
For my youngest daughter's 6th Birthday she requested a Luau pool party. I'm a very good baker but I've never been great at cake decorating. When brainstorming cake ideas I thought I could make, without it looking like it belonged on "Nailed It", I remembered I had success making a doll cake in the past with a textured skirt. I decided I could make a hula girl doll cake and all I would have to do for the grass skirt was a bunch of lines of green frosting. I knew my daughter had a Barbie wearing a bikini and I...
---
Posted by Miranda Weldon on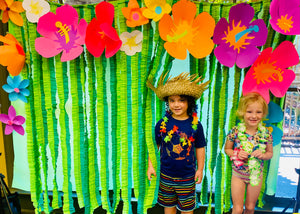 Ruffle Crepe paper streamers are one of my favorite easy DIY party decorations! They are quick and easy to make and very inexpensive. You can make them in any color or combination of colors. For my daughter's recent Luau party, I used 2 shades of green to make them and used them for a photo booth backdrop and some extras to decorate my DIY Tiki piñata and DIY tiki buckets. To make your own you will need: 2 rolls of crepe paper streamers in 1-2 colors (or you can overlap 3 rolls for an even wider streamer with up to...