---
Posted by Miranda Weldon on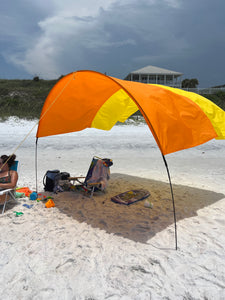 I sewed my own canopy after seeing a picture my husband shared with me of a style he wanted. Most of my sewing projects are for my kids, and I was happy to use my sewing skills to make something for my husband, for once. At the time he showed me the picture, I didn't know anything about the company that made the beach canopy he showed me. I wasn't aware the company had several utility and design patents, and I wasn't aware that patents prohibit reproducing a product, even for personal use. 
I know you may be visiting MagpieTayleetot right now because you bookmarked my tutorial. I know you may be disappointed to see the tutorial is no longer here. Unfortunately, I can no longer, in good faith, share instructions on how I reproduced someone else's idea and product. 
---
Posted by Miranda Weldon on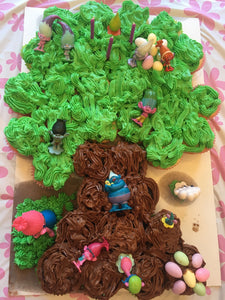 As I've said before, I'm an excellent baker but not very good at cake decorating! I love to make my kids birthday cakes but am constantly looking for what I know I can pull off with my limited skill set. When planning a Trolls themed birthday party, I saw lots of beautiful Trolls cakes, but they all required more piping skills than I have, or a lot more fondant work than I was comfortable with. I found a set of Trolls Figurines that could be used a cake toppers, but didn't like the idea of just throwing them on top of...
---
Posted by Miranda Weldon on
For my youngest daughter's 6th Birthday she requested a Luau pool party. I'm a very good baker but I've never been great at cake decorating. When brainstorming cake ideas I thought I could make, without it looking like it belonged on "Nailed It", I remembered I had success making a doll cake in the past with a textured skirt. I decided I could make a hula girl doll cake and all I would have to do for the grass skirt was a bunch of lines of green frosting. I knew my daughter had a Barbie wearing a bikini and I...