---
Posted by Miranda Weldon on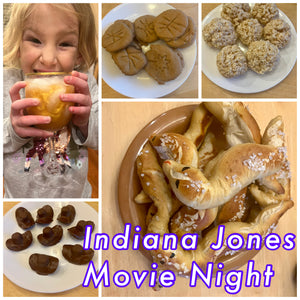 The last movie night we had was Disney's Enchanted, which my husband called a chick-flick. I promised him the next family movie night would be an action movie. My youngest daughter loves 80s movies like Ghost Busters and the Goonies and enjoyed the Indiana Jones stunt show at Disney's Hollywood Studios, but had never watched any of the Indiana Jones movies, so I decided we should watch Indiana Jones Raiders of the Lost Ark!      When planning movie night snacks, I started by thinking of memorable moments from the movie, and knew I needed to do something with the...
---
Posted by Miranda Weldon on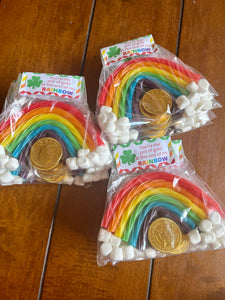 I love putting together cute snacks for my daughters class! It's my favorite job as room mom. Our school has a policy that parents can't cook anything for the class though, which sometimes limits the cute snacks I can make! Parents are allowed to repackage food though, which helps open up some cute options. For St.Patrick's day I decided to make these cute bags with twizzlers rainbows, marshmallow clouds, gold coins, and a cute bag topper! Supplies needed:  Sandwich bags Bag Topper (I found this one here ) Printer Paper Scissors Staples Mini Marshmallows  Rainbow pull apart twizzlers (I used 4 bags to make...